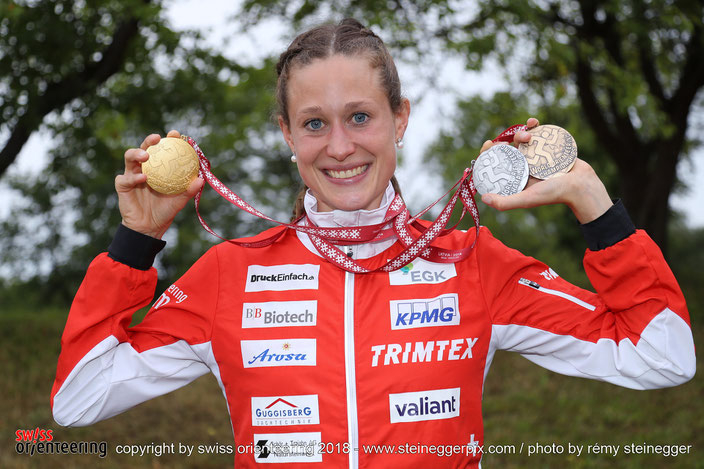 What a week! Four starts, three medals and an 8th place are more than satisfying!
The post-WOC depression has caught me but looking back to the week in Latvia makes me smile. It has been a tough and emotional week in many ways. What I will remember the most is the great team spirit through the week, the amazing Swiss fans and my family covering my back.
First of all I want to thank all my sponsors, Redbull, Valiant, Guggisberg AG, Schär und Trojahn AG, orienteering.ch, Swipala, Salomon and the Judith Wyder Fanclub.
Thanks to the team of Swiss Orienteering with special thanks to Vroni König-Salmi, Francois Gonon, Christine Lüscher-Fogtmann, Peter Züst, and Pascal Knobel.
Finally, thanks to Martin Kumm and Thomas Hürzeler for getting me back in shape.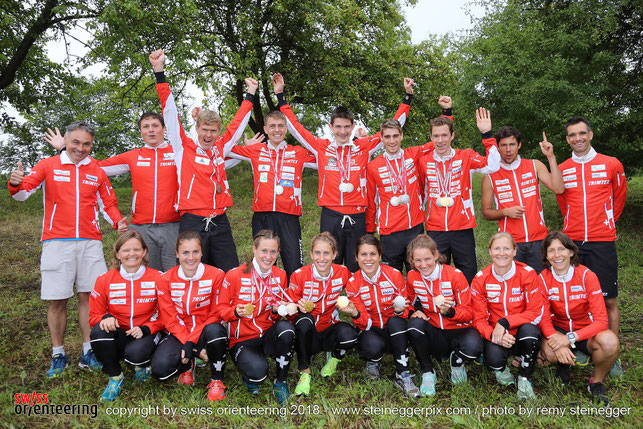 The week started off with a great package of Sprint races (Qualification and Final) in the centre of the old town of Riga. Shortly after 9 o'clock, I started into the streets of Riga to qualify for the afternoon's race. I managed to do an excellent sprint performance and was looking forward to the Final. 
Warming up with the view of the Dome of Riga and over the river Daugava made me think to my first individual WOC medal in Venice. Therefore, I was very motivated and happy to start the race and give my very best. I started fast and stable although I was very stressed about all the tourists and the paving stones, making reading the map very challenging. Unfortunately, I missed one passage and fell because of the wet and slippery roads in the very last part of the race. When running to the finish, I was not happy with my performance. To hear that I was third was almost a little weird. Of course, I was very happy and thankful to win another medal and to be back at the top.
After a short night, it was time to get nervous again. The start of the Sprint Relay came closer and closer, and I was as excited as a little child. My teammates Elena, Florian and Fabian did a great job. They sent me out onto the last leg in 4th position, just in touch with the second place and about 40 seconds behind Sweden. As always, I started fast and already at the second control I was in second position. It felt amazing to dash through those streets and push for a great team result. Halfway through, I saw Sweden for the first time. Of course, I was imagining to catch the Swedish runner, but I had to tell myself over and over again, to orientate properly. I succeeded very well and could secure a second place behind outstanding Sweden.
The upcoming days were probably the most difficult days at a WOC ever. After a terrible night of Linn, we had to go to the hospital in Riga. Linn got diagnosed acute bronchitis, so we had to stay at the hospital for the upcoming days. Luckily her condition soon stabilised, and I went back to the team on Tuesday evening, while Gabriel stayed in hospital with Linn.
For this reason, the day of the Relay was very emotional and tough in all matters. Gabriel supported me from the hospital at all times and always cared about our little Linn. My teammates encouraged me all the way! Thanks, Flying Swiss Girls!
We were well prepared, but all three of us faced with a different challenge. To see Elena and Julia perform that well motivated me to fight until the end. I was sent out in second position just about 10 seconds behind Swedish Tove Alexandersson.
Nothing new to me, but again I started fast and was able to close the gap to Sweden at the first control already. I made my own route choices and was happy to realize, being in front at the arena passage. After a minor mistake, Tove caught up with me again, and we relaunched the race. At the final uphill, I hesitated shortly (to make sure I was running up the right valley), and Sweden got a 10-meter lead. Although only a few easier controls were left, I tried to push hard! And then on the second last control, Tove hesitated just a second, I sneaked by and pushed as hard as I could and was so relieved to finally cross the finish line with the Swiss girls! To win Gold at the World Championships with the same team as we won the European Championships feels amazing. I am still smiling when thinking back!
After another rest day, it was time for the Long distance. Over the last months, I was training hard for this race, and my ambitions were high. But somehow, I couldn't fight that day. My energy level was too low, and I did some bad route choices and mistakes. To become 8th in the end was still a very solid and good ending of a fantastic week!
I am so thankful for all the support, crossed fingers I received, which made it possible to run the World Championships on this top level. It's even more thrilling to achieve this only 8 months after giving birth to our little Linn! Without you, I could not have accomplished all this! I am now taking some days off before I will focus on the World Cup in Norway and Czech Rebublic.
See you again soon!