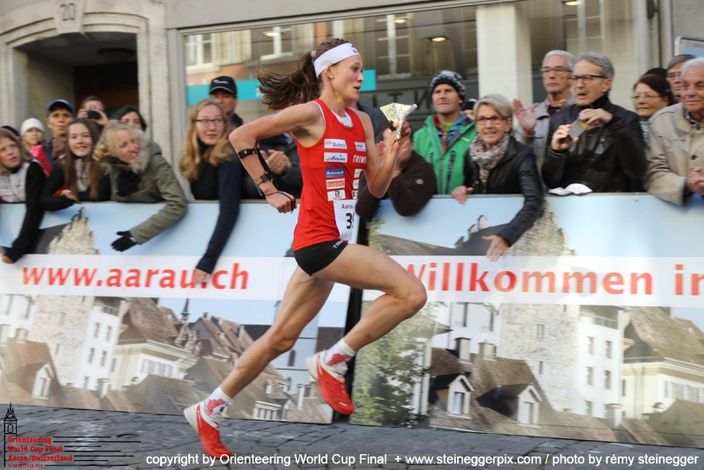 The year is soon about to end and it's time to look back summarize the season. The off season started already three weeks ago after an unforgettable weekend at the World Cup Final in Aarau (SUI). I had never ever thought that I could manage to end my season with three World Cup victories and threaten Tove Alexandersson for the overall victory of the World Cup until the end. The final second place was a great achievement of an amazing year!
Facts: 
334 days of training
620 trinings done
4250 running kilometer
about 30'000 kilometers in the air 
2 pairs of Orienteering shoes
2 broken compasses
1 pair of Salomon S-Lab Sense have made their work
1 pair of Trimtex tights did their work until a black berry training in the estonian forest

Swiss Champs: 6-1-1
World Cup: 24-1-1-3-2-4-1-1
Overall World Cup: 2
Sprint Relay World Cup: 1-3-2-1 
Over World Cup Sprint Relay: 1
EOC: 1-2-3-4
WOC: 2-2-4-4
I am thankful to count on many professional people around me through the whole season. Thanks to my Chiropractor Martin Kumm, who helped me to come back to normal training after my injury in 2015.  For 14 month Thomas Hürzeler is now my physical coach who plans my training and tells me exactly how hard I should go or if it's time for a break, like now my off season break with only little training. Thanks for your help through the whole year! You brought me back to the top! Thanks also to Vroni, Pädi and Francois for your great work in all camps, competitions and on home ground. You build the professional surroundings we need!
Nerveless I also want to thank my former work the Vitalis Center. After four years working part time as a physical therapist, I made my decision to leave Birsfelden as my working place and to start a new chapter in Bern. Your support has been amazing and I am thankful for everything you have done for me!
Of course, there are many others who made my year that successful! GMOK, my club in Göteborg who made it possible to stay and train with the club for 8 month. My whole family, who always believes in me.
But there is one person who I could not thank enough! On the 5th of November Gabriel and I started a new chapter of our lives – we got married! As I am writing this article we are on our honeymoon in Morocco and we enjoy the beautiful landscape, friendly people and good food! I am still having many flashbacks to our beautiful wedding and I am thankful for this amazing wedding with all our friends!
We are looking forward to a lot of new adventures as man and woman!
It's also time to plan my next season and set new goals. On the top of the list are certainly the Orienteering World Champs in Estonia at the end June, beginning of July. I'm looking forward to the start of the winter training.
Now I will head to the Souk of Essouira for one of these nice fruit juices they sell… J See you soon in 2017! 
---