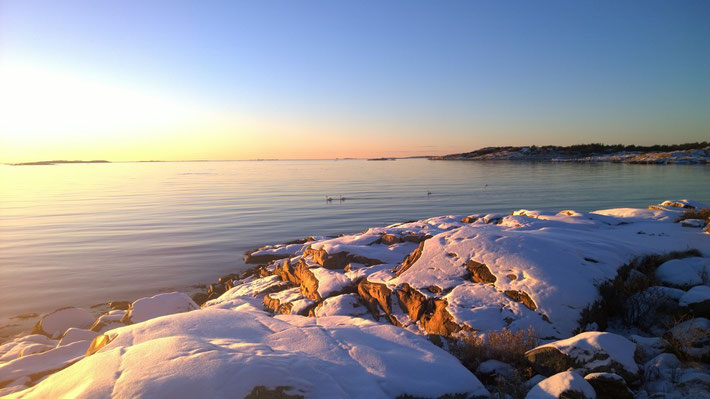 More than a week ago Gabriel and I packed all our personal belongings and drove to Lörrach to take the night car train to Hamburg. Even though we were not sure if we had all our most important training equipment, our car was full and our final destination present. Yes, it was a long journey traveling all the way to Gothenburg, but it was worth it!
We have been here in Gothenburg for two weeks now and I really enjoyed coming back to Sweden. After living in Mora between 2004 and 2007, being back to Sweden feels like home. The people of GMOK have been really generous and helpful and they organised a nice flat for us near Skatås and the GMOKs club house.
The training has been a bit difficult because at the moment there is ice everywhere. Therefore I only did the interval training with the club on Tuesday and had to run on the treadmill the day after. Nevertheless I already did five great orienteering trainings!  :-)
Although I am quite used to the Swedish language and life, there are some funny differences we already noticed in the last few days:
In a gym it's a "must" to  wear long 2XU tights, the ankles are free and you wear some fancy sneakers and a tank top.

Friday is taco-day 

 Enjoy every second of sunshine, it could be the last for a while

Going to the supermarket takes about double the time as at home. It's not only the huge amount of  unknown products, its rather the wide range of milk free products you can choose from. "Paradise"! :)

Buying wine at the "Systembolaget" can be a challenge. It's necessary that everybody brings his id. Even though one of us shows his card to the cashier doesn't mean that you can buy it. And it's not, that we have just turned twenty!
So far so good…
I am now looking forward to an other nice club training. Later we are heading to Tenerife with a group of "none"-orienteers in order to focus on physics and speed. Hopefully there are going to be 10 nice and sunny training days. Afterwards we will continue to train here in Sweden, our new home. 
On my Twitter and Facebook Account you will find more daily news about my way to the World Orienteering Championships in Sweden.
---