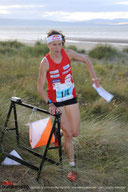 This year's World Orienteering Championships (WOC) already ended more than a week ago. Five decisions and one qualifications are history and every event tells its own story – every single athlete, every spectator, every volunteer, every official and every journalist experienced his/her own story.
To write my story feels much more difficult this year than last year. As you all know this year's WOC was not successful for me.
I came to Scotland to fight for medals – what I then had to fight against was my body.
Sprint Qualification
It started all quite good on the 31st of August with the qualification race of the Sprint. The race area in Forres offered lots of fast and tricky route choices but was more running emphasized than tricky orienteering. I had a clear race and was technically very satisfied. But on the last part of the race I started to feel pain in the upper back. I was worried but still very positive that a little rest and some physiotherapy will get me ready for the Sprint Relay the day later.
Sprint Relay
We were well prepared and I was looking forward to run in Nairn. Rahel Friederich, Martin Hubmann and Matthias Kyburz did a very god job and I started my race on the second place just some meters behind leading Denmark being very calm and fully focused on the orienteering from the start. When I went back into the dunes for the second time (after maybe 8 minutes of running) I hit the wall. I had problems moving my legs and the pain in the back was getting more and more intense. Of course it was also mentally a big challenge. I knew that I couldn't hold up the speed and my thoughts automatically went to my teammates and the medal that I could lose. After the spectator control it got worse and I had troubles holding my concentration up. Unfortunately it was not only my missing speed but also two bad rout choices because of my total black out in the end. 
The rest you may know already. Norway passed me on the way to the second last control and Russia on the run in. After the race I had troubles walking at all. My legs were not cooperating. I tried to sit on the spinning bike for some minutes when we came back to our hotel to regenerate my legs as good as possible. Sleeping was not possible that night, I was thinking a lot about the race and felt so sad and sorry for the team.
When I got up in the morning my back pain was still there and I had troubles to control my left leg while walking. A little test run showed me that I'm not recovered enough to run the sprint final. It was so hard to decide that! I really wanted to run and defend my last year's title from Venice.
Relay
The rest (tree days) went quite good and I felt ready to run the relay together with Julia Gross and Sara Lüscher. Our Coach Vroni and I had taken the decision that I'm going to run the second leg instead of the third one, which I really liked. Julia did a very god job on the first leg and I could run out together with the best nations. I felt quite unsecure and stressed in the forest and was then very much relived that I could get back almost together with Sweden, Finland and Norway. We all did a stable race and were in the medal fight till the end. To win a medal we would have needed one outstanding performance on that day. For myself it showed, that with some more confidence in my orienteering skills and with a fit body that I could be quicker.
Long
The relay stressed my body too much. The medical team did everything to get me ready but in the end the decision not to run was wise and better for the upcoming autumn season. A long distance like this in this demanding terrain of Glen Afric needs a very fit body and even more confidence in your body and your skills. So this was the second race which I had to revoke. So this WOC was over earlier, than it was planned. And that hurt.
The week from 1st to 8th august has probably been the most difficult in my orienteering career. I've been investing a lot of thoughts in the last week about why all that happened this way For the moment I can't tell.
Although the WOC was such a frustration for me it was also a big learning session. I had to deal with my body, with bad thoughts and a lot of emotions. I had - and still have - to learn how to deal with it when things don't work as you want them and accept it.
Information's about WOC 2015
Sprint Qualification GPS / Results
WOC Pictures by Rémy Steinegger
After WOC I have extended the stay in Scotland with some relaxing holidays without any orienteering. I even started to love Scotland with all its beauty it has to offer. We did hikes on different parts of the country. I really loved the beaches of the Island Harris on the Outer Hebrids and the mountains on the Isle of Skye. Fortunately we often found good coffee and cake and also the Scottish Whisky tastes fantastic.
The time has come to look forward and take the lessons with me. There is another part of the season around the corner and next year's WOC in Sweden is already in my focus. For sure I will be happy when I once look back and see that I invested in things which were going well and also worked even harder on things which did not go well at this year's WOC.
Thanks everybody for your support you gave and give me also in times where not everything is peace, love and pan cakes. I'll be back!
---