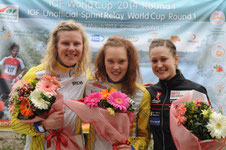 The new world cup season 2014 started like the old one ended. with a podium! Last Weekend the season started with the first world cup round in Antalya, Turkey.
After two years always writing in German I finally got convinced by some swedes to write in English. So here it is my first post in English…
The first training in Antalya I did have some problems with the mapping and also the understanding (how is everything drawn and how does it look in the forests) of the maps. After three trainings I actually managed quite well to make a plan how I would orienteer on the middle qualification on Friday.  I wanted to orienteer very carefully and to focus on orienteering instead of pushing the running too much. My plan didn't go of that well… I started focused and with a plan to the first control, then made my plan how to attack the second and didn't manage to deal with the little information we had on the map. It was not a big mistake but I was so stressed when I ran to the third, I totally lost myself on the way to that control. After this more or less bad start of the race I did a re- start and I performed well from that. I finally qualified with a 20th place.
I was really happy to have this qualification race before the final. It helped me to understand the terrain better and to focus even more on the orienteering part. It kind of woke me up!
In the final I did a very concentrated and stable run. I had some problems at the first control as well as the ones after the run through the arena. But instead of trying just to run, I managed to control myself better and I came to the finish as a leader. For me it didn't mean too much because there were 19 fast girls still out running. For sure I was happy with my stable run, but I never thought I could make it on the podium, I hoped it would be enough for a top six rank.
To finish the first world cup event of the season on the podium was for certainly perfect! And it was even better to see the whole woman team doing so well!
When I woke up at sprint relay day I felt tired and without any strength. While warming up I started to feel better so I wanted to give this new kind of competition a try. First out was Rahel Friederich then Martin Hubmann and Matthias Kyburz on the third leg. I was sent out as last leg runner together with Ines Brodmann about 1min behind the leaders. I started fast as always and managed to do a good first loop. Suddenly I got very tired and did a few small mistakes so I ran to the finish as fifth team.  Unfortunately we were disqualified in the end because there was one punch missing on the first leg. 
It was my first time running a sprint relay with emits- touch free and I have to say it's a bit special to just pass the controls without stopping and punching. But I think it's going to be a really interesting new world champs competition this summer.
The next three days I will stay training here in Turkey with 10 other Swiss. For me the most important thing is to get healthy as soon as possible and be able to enjoy at least some of the trainings here the next days.
Coming up next is the MOC trainings camp next week as well as the MOC Competitions in Venedig and Florenz.
---